bio :
ryanSmith is a multimedia artist from Baltimore, Maryland. Currently, Smith works professionally as an installation artist, freelance photographer, web designer, graphic designer, musician, and video specialist.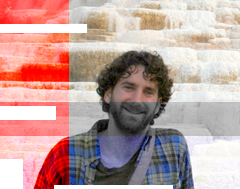 Since 2001, he has been creating a body of work, in a variety of media that focuses on the contrasting sides of human emotion, and how to cope with the extremes of our natural instincts. Playing with the physics of reflected and refracted light, he constructs installations using photography, video projections, and mixed media to create a psychologically stimulating atmosphere.
His art is meant to stir up unused or even unwanted feelings, arouse curiosity, and invigorate the viewer. Encompassing all sides of life's colorful spectrum, he often utilizes vibrant colors and playful imagery juxtaposed with unsettling content. This dichotomy is not meant to frighten or confuse the audience; instead it should lessen the discomfort associated with the unfamiliar.

Education:
After receiving his undergraduate degree in Graphic Design from Towson University, he attended the Maryland Institute College of Art (MICA) to earn an MFA in Photographic & Electronic Media, an MA in Digital Art, a teaching certificate, and was awarded the Murthy Digital Arts Grant.
Smith is currently an adjunct professor. He teaches Foundations and Digital Art+Design related courses at Towson University. During his time at MICA, from 2007—2009, he taught a number of graduate level workshops on web design and different types of computer software. For four semesters, he assisted in teaching the course Electronic Media & Culture. And, in 2008 he was the assistant to the Director of Graduate Photography.
Music:
Since 2004, Smith has been working on his music project, "ryanSmithTHOTH", and has perform with a number of musicians from around the country. These sound recordings and performances are mostly instrumental and improvisational. Like his visual art, his music uses contrasting tones, blending ambient, tranquil sounds with dissonant, primal rhythms.
His current music project is in collaboration with Justin Miller. Together they are "
Xiphoid-Process
".

Xiphoid-Process:
Instrumental, mostly improvisational, sounds are created by handmade instruments, run through effects pedals; Xiphoid-Process is Justin Miller & ryanSmith. Justin (a member of the Immortal Jellyfish) has been building instruments for years. Xiphoid-Process create a wide spectrum of ambient tones, primal rhythms, bowed/droning notes, and harmonious noises. Together Justin & ryan make installation art as GamalLama (Baltimore). They have both performed & exhibited at Artscape, among other local festivals.
https://xiphoid-process.bandcamp.com